Air France refreshes front of cabin menus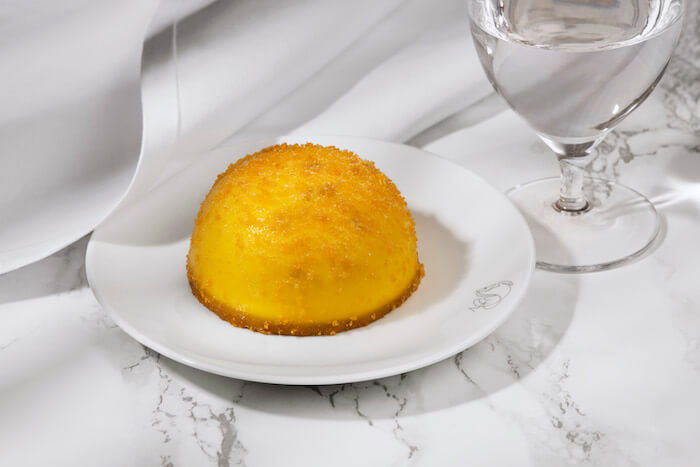 Air France is rolling out updated menus for its La Première and long-haul Business Class cabins this month. On flights departing from Paris, French Michelin-starred chefs Emmanuel Renaut and Anne-Sophie Pic will be creating dishes for Air France Passengers. They will work, alongside the Meilleurs Ouvriers de France pastry chefs Angelo Musa and Philippe Urraca.
For the first time, the airline is offering dishes by chef Jean-Charles Brédas, the 18th chef to work with Air France.
"The chef will sign the entire Business cabin menu on departure from Pointe à Pitre, Fort de France, Saint Martin and Cayenne, as well as on flights on the airline's regional Caribbean network," said the press release.
To create the menu, chefs work with Servair for fresh, local and seasonal produce. They use a responsible approach to sourcing meat, poultry, dairy products and eggs, all of which are of French origin. Fish served on these menus is sourced from sustainable fisheries on departure from Paris, the press release said. Vegetarian menus are also available.
Emmanuel Renaut serves up gourmet dining in La Première cabin on departure from Paris
Air France's La Première cabin offers each passenger a gourmet dining experience. Voted "World's Best First-Class Onboard Catering" at the Skytrax World Airline Awards 2023, Air France is entrusting its menu to Renaut from November onward.
The triple Michelin-starred chef and Meilleur Ouvrier de France combines local produce with French culinary heritage to craft the gourmet dishes on the La Premère cabin menu. Renaut has created eight dishes; farmhouse chicken confit with mushrooms and a vegetable mille-feuille, and a creamy blend of root vegetables, button mushrooms, porcini mushrooms and Beaufort, join the menu in a nod to Savoyard cuisine.
"Nature is a source of inspiration that is as infinite as it is fragile. My cuisine tells a story, one of simplicity, indulgence and comfort. This is what I wanted to pass on to Air France passengers," said Renaut.
Angelo Musa sweetens things up
Chef Musa is covering dessert. Four desserts join the menu including mango, citrus and cognac baba and the chocomûre, combining the power of pure Venezuelan dark chocolate with the tangy notes of wild blackberry.
Anne-Sophie Pic and Philippe Urraca in the Business cabin on departure from Paris
In the long-haul Business cabin, Pic is serving up eight gourmet items including a chicken supreme with sake (combining Japanese ingredients with local French produce), roast parsnip with dill butter and curry combined with walnuts.
"For Air France customers, I've created some unique dishes highlighting French produce. I've worked on them by playing on the combination of original flavours and the strength of the tastes," said Pic.
Air France is also adding a top pastry chef to its roster to handle the signature desserts available in the Business cabin. Philippe Urraca, Meilleur Ouvrier de France, has created an Opera, a Black Forest and a Yuzu Entremets to provide a sweet conclusion to the meals in long-haul Business.
Jean-Charles Brédas in the Business cabin on departure from the French West Indies, French Guiana and the Caribbean regional network
This month Air France is offering new dishes onboard by Martinique chef Jean-Charles Brédas in the Business cabin. The dishes are served only on flights departing from the French West Indies (Pointe à Pitre, Fort de France, Saint Martin) and French Guiana (Cayenne) to Paris, as well as on flights on the regional Caribbean network linking Cayenne to Fort de France, Pointe à Pitre to Miami and Pointe à Pitre to Montreal.
The chef is serving 12 dishes including a creamy risotto with coconut milk, pigeon peas, almonds and giraumon and a roasted grouper fillet served with crunchy papaya sauerkraut, green sauce and dachine cubes.
"My cuisine is carefully thought out," said Brédas. "I've created simple recipes using local produce that reflect my Creole and mixed-race identity, a cuisine that combines the pleasures of taste and sight: where the land meets the sea."
Air France is also fighting food waste by offering passengers in Business Class the option to pre-select their hot dish up to 24 hours before the flight.