RMT Global Partners brings digital rebrand to Singapore
Following the recent launch of its new website, RMT Global Partners tells PAX International it highlighted its new digital presence this week at FTE APEX Asia Expo in Singapore, along with its other popular offerings.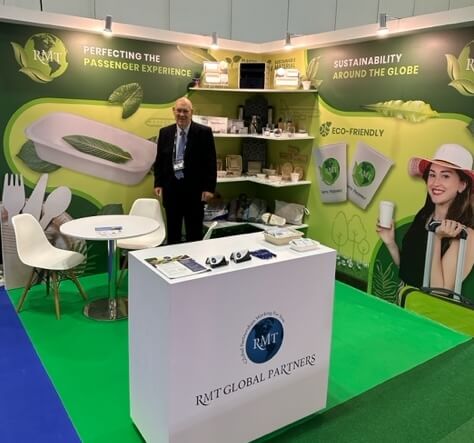 Website redesign
The purpose of the website relaunch is to bring its products, services and award-winning sustainability initiatives into clearer view.
"As a company committed to innovation and constantly pushing the boundaries in product design, we strive to provide our customers with nothing but the best," says Richard Tuttle, Founder of RMT Global Partners.
Tuttle also reports to PAX International that the company has a good turnout at the Singapore event.
"Our ethos of forward-thinking extends to every aspect of our brand, including our online presence. Embracing sustainability has been a key element in our journey for all of us at RMT, and we wanted our website and booth to capture and share that excitement with the world."
The site features easy-to-navigate categories highlighting RMT's products and services offered in several industries, a contact form, and a snapshot of its impressive accolades.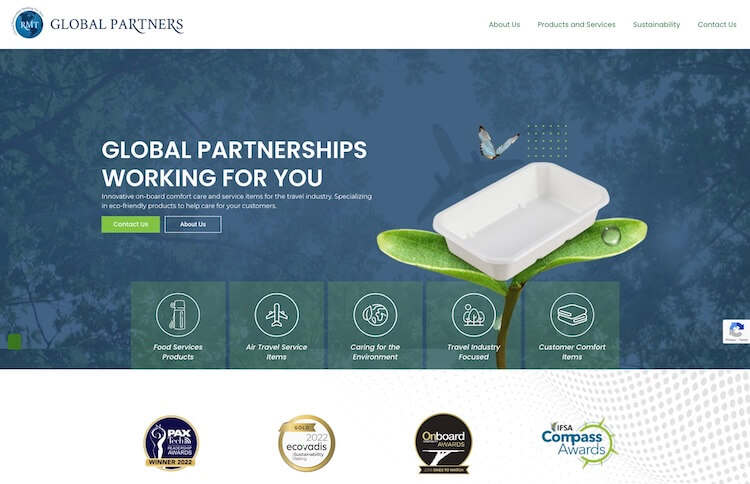 The website aims to enhance the user experience and align with the company's impressive history. Visitors to the website will notice it features RMT's recognizable logo in both blue and green. Blue representing its classic ranges for sectors that require single-use products, such as healthcare, while the green logo indicates its sustainable ranges, which are always in high demand, Tuttle explains.
"At RMT Global Partners, we believe in setting high standards. This redesign sets a new benchmark for our online presence, reflecting our commitment to excellence," Tuttle explains.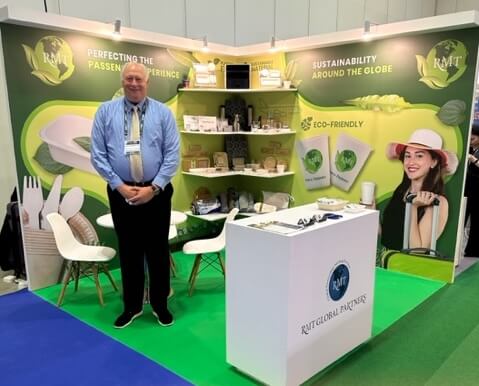 RMT's offerings
RMT Global Partners supplies a variety of onboard comfort products and services across aviation, cruise, rail and other sectors which can all be customized based on customer requests, Tuttle says.
Products and services available include eco-friendly paper cups, polycarbonate glassware and dishes, Bagasse serviceware and sustainable Bagasse cutlery, as well as textiles, wipes (sanitizing wipes, hot towels) and service items (ice buckets, insulated coolers). Several kits are also available, including hygiene kits, tidying kits, airsick bags, diaper kits and biohazard kits.