Polygiene Group debuts capabilities at AIX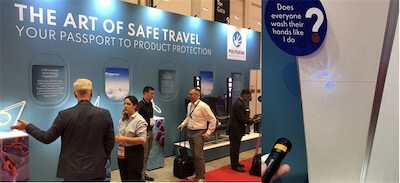 Polygiene Group exhibited for the first time at the June Aircraft Interior Expo in Hamburg with a stand that showed the company's technologies that add important value to aircraft interiors.

In addition to a large number of leads and meetings, Polygiene participated in a panel discussion with the Polygiene CMO, the 'Germ guy' Jason Tetro, moderator Paul Chen from VX Consulting and partner MGR Foamtex on How to Improve Cabin Interior Hygiene that was mentioned in several trade magazines, including PAX International.
The participation at AIX puts Polygiene Product Protection and the Polygiene Group on the map in the aviation category and has led to many opportunities and leads that will be followed-up with a focus on new, strong partnerships. The company used the time to reinforce existing relationships with partners such as Muirhead, MGR Foamtex, Acro Aircraft Seating, E-Leather and Signature Plating.
"We have a strong focus on the aircraft interior category and AIX was a very good start that shows the potential in the category. Severalmajor players are interested in our full offer and ability to protect all touch points in an aircraft on both hard and soft surfaces. In addition to antimicrobial product protection, we offer a sustainability story of longer lasting materials that will be on top of the agenda as the industry opens up again and people start traveling," said Maria Virginia Beavon, Business Development Manager of Polygiene Group.