Emirates launches limited edition upcycled luggage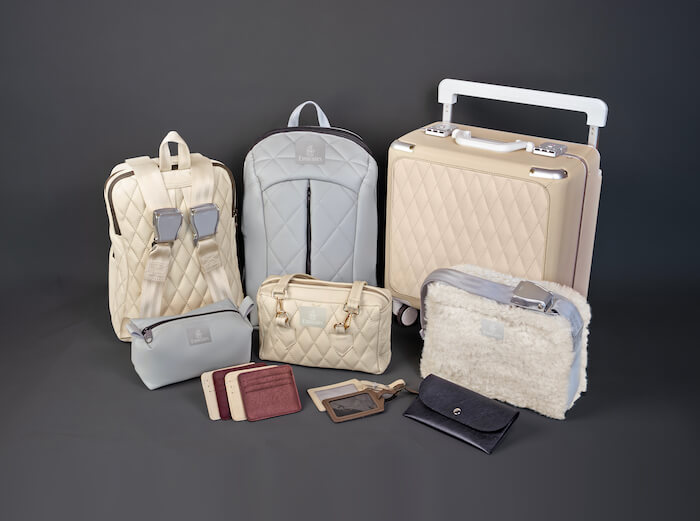 Emirates announced in a press release that its innovative line of limited-edition luggage and accessories are crafted from upcycled materials from retrofitted aircraft.
The airline's capsule collection features suitcases, backpacks, handbags, cardholders, toiletry bags, belts and shoes, the press release said. All the products were designed and handmade by Emirates tailors in a cabin workshop at the Emirates Engineering facility in Dubai.
Capturing both the spirit of innovation embedded in Emirates' culture, and an ongoing environmental commitment to consuming responsibly, Emirates is launching a unique capsule collection of luggage, bags and accessories – all fashioned from upcycled materials from retrofitted aircraft.
The collection is scheduled to go on sale in 2024 at Emirates Official Stores, with all proceeds going towards children in need through the Emirates Airline Foundation/ A selection of bags and accessories will be on display at the Dubai Airshow in DWC from November 13 to 17. The press release said the display will be at the Emirates stand at the airshow.
The limited collection offers travellers a chance to own a piece of history since the materials used to craft the luggage and accessories are gathered from Emirates A380 and 777 aircraft interiors. Various materials have been upcycled to create the luggage and bags, including aluminum headrests, leathers from couches in the A380 onboard lounge and seatbelts, the press release said.
More than 14,000 kg of materials have been recovered to date from sixteen retrofitted aircraft. In its press release, Emirates said that as the project continues, there is potential to recover up to 270 kilogrmas of leather and 627 kilograms of seat fabric per aircraft.
Each piece in the collection is handmade to order, allowing travellers to request personalized laser engravings on one-of-a-kind bags, suitcases or document holders. These items are available in limited quantities.
The materials used in these handcrafted luggage pieces and accessories and pure leather from the First Class seats, seat fabrics of 95 percent wool and pure leather from the Captain's seats, the press release said. The fabrics are freshly laundered in a facility, deep cleaned by hand, leather-conditioned (as needed) and disinfected before they are used to create the pieces in the limited collection. The bags contain brand-new lining and functional zippers.
Emirates has assembled a team of fourteen tailors (Engineering Maintenance Assistants) to fix and stitch tears in the interiors used for production. Four of the tailors are working full-time on the initiative of upcycling and repurposing the aircraft interior materials for the bags and luggage.
"At Emirates, we are committed to constantly evolving our sustainability efforts, and looking at every aspect of our products and supply chain," said Ahmed Safa, Emirates' Divisional Senior Vice President for Engineering.
"We knew these materials could be given a second life because they are originally of very high quality. We challenged our team to be as creative and innovative as possible, and here we are, with our own accessories workshop in [the] Emirates Engineering Centre! This initiative is a passion project for our team, and we are immensely proud of how it aligns with both our innovation and sustainability aims, and even better - that all proceeds will benefit worthy causes via the Emirates Airline Foundation."