Korean Air unveils new upcycled amenity pouches made from cabin life vests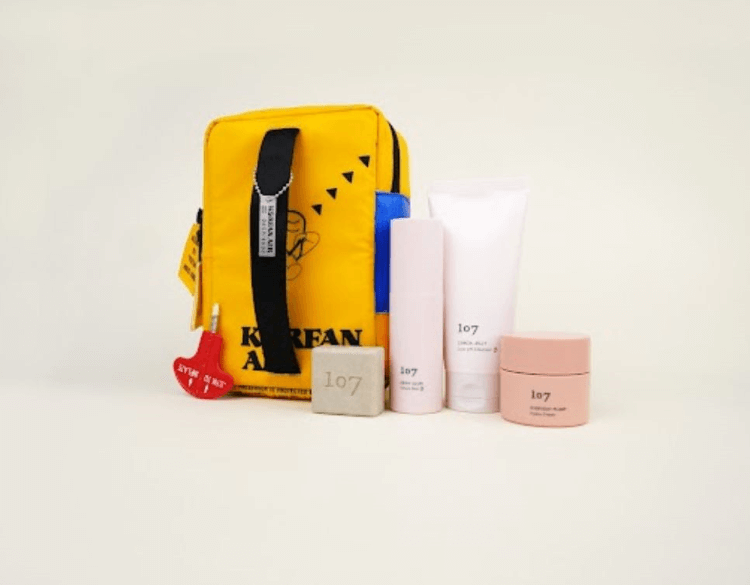 Korean Air unveils new eco-friendly "life vest" cosmetics pouches available for passengers now. A limited number of 4,000 eco-friendly amenity pouches, made out of retired cabin life vests, are be available for purchase on Korean Air's e-Skyshop. The proceeds from the cosmetic pouch sales will be donated to a global environmental organization.

The upcycled pouches have been produced in collaboration with Korean beauty brand 107, renowned for its natural skin care products and eco-friendly holistic approach to beauty. The upcycled cosmetics pouch will feature six different travel-size skincare essentials: a facial cleanser, a face mist, moisturizing cream, soap, shampoo and a mask pack.
Not only have the pouches been made from retired life vests, but the manufacturing processes were carried out to minimize pollution and carbon emissions. The pouches were manufactured at a factory using solar power, and eco-friendly, biodegradable detergents were used to wash the life vests.
As a part of its ESG activities, Korean Air has carried out various upcycling projects such as producing name tags using scraps of retired aircraft and the donation of hot water bottle covers made using inflight blankets to neighbours in need.
Korean Air said it will continue to develop and showcase unique and original eco-friendly products.