Brussels Airlines reports "most profitable Q3 ever"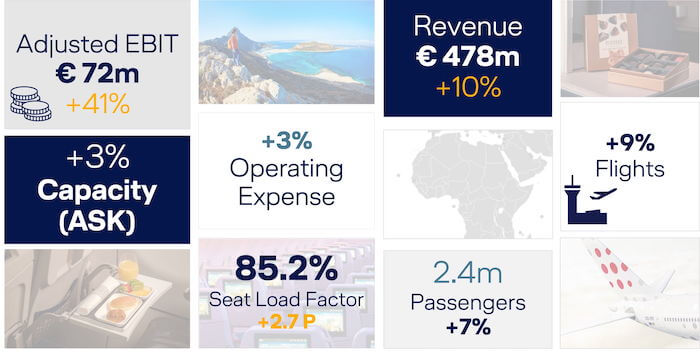 Brussels Airlines is reporting its "most profitable quarter to date" at the close of the third quarter of 2023. The Adjusted EBIT was EUR€72 million (US$78 million), an improvement of EUR€21 million (US$22.7 million) from the same period the previous year.
The Adjusted EBIT for the first nine months of the year was EUR€59 million (US$64 million). In its press release, the airline said that a record-breaking profit is expected for the full year of 2023.
The airline carried 2.4 million passengers in Q3 across 18,000 flights, reporting a seat-load factor of 85.2 percent.
"I would like to thank the entire team for achieving this result," said Nina Öwerdieck, Chief Financial Officer, Brussels Airlines. "Thanks to the agility of everybody at Brussels Airlines we can present record results, despite some operational hurdles. I am really proud of all our colleagues for going the extra mile, making sure we could operate as a reliable airline."
2023 set to be "record breaking" year for Brussels Airlines
Brussels Airlines currently expects to achieve record breaking full-year results in 2023, despite the fact that overall capacity remains 15 percent below pre-COVID levels.
The profitability of the airline continues to close this gap as five A320neo aircraft are set to join the fleet soon, along with its tenth long-haul plane.
"I am very pleased that Brussels Airlines has achieved this historic turnaround," said Dorothea von Boxberg, Chief Executive Officer, Brussels Airlines. "A profitable and strong Brussels Airlines allows us to invest in our network, services for our customers and to be an attractive employer for today's and future employees. Our renewed Sunrise Lounge, extras on board of our flights, new uniforms and a new crew room are only a few examples. I am convinced we will continue our path towards sustained profitability."