Singapore Airlines carries 17.4 million passengers in first six months of fiscal year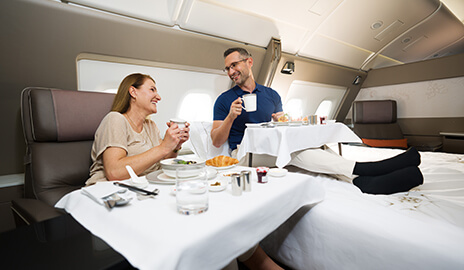 Singapore Airlines is reporting record load factors supporting the highest-ever half-year operating and net profits, a press release read. The demand for air travel into the northern summer travel season was enhanced by the full reopening of China, Hong Kong SAR, Japan and Taiwan.
SIA and Scoot carried 17.4 million passengers in the first six months of the 2023-2024 fiscal year, an increase of 52.3 percent over the previous year. Passenger traffic grew 38 percent from last year, outpacing the capacity expansion of 29 percent.
The Group passenger load factor (PLF) improved by 5.8 percentage points to 88.8 percent, the highest ever half-yearly PLF. SIA and Scoot achieved record PLFs of 88 percent and 91.3 percent respectively.
Group revenue rose $745 million (+8.9 percent) to $9,162 million, with the $1,571 million (+26.3 percent) increase in passenger flown revenue to $7,550 million partially offset by a $1,039 million (-49.5 percent) decline in cargo flown revenue to $1,060 million.
Expenditure increased by $427 million (+5.9 percent) to $7,609 million, with the rise in non-fuel expenditure of $840 million (+18.7 percent) partially offset by a $413 million decrease (-15.3 percent) in net fuel cost. Net fuel cost fell to $2,283 million mainly due to a 29.2 percent decrease in fuel prices (-$1,077 million), despite a higher volume uplifted (+$566 million) and lower fuel hedging gain (+$173 million). The 18.7 percent increase in non-fuel expenditure was in line with the 19.9 percent increase in overall passenger and cargo capacity.
The Group recorded an operating profit of $1,554 million, $320 million higher than the previous year. The Group reported a net profit of $1,441 million, $514 million more than the previous year (+55.4 percent), on the strong operating performance. The improvement in the bottom line was also aided by the net interest income versus net finance charges last year (+ $222 million) and share of profits versus share of losses of associated companies last year (+$87 million), partially offset by a higher tax expense (-$118 million).
Singapore Airlines' fleet development
SIA added three aircraft to its operating fleet in the second quarter, the company said in its press release. These comprise one A350-900 (delivered in July) and two 787-10s (delivered in August and September). As of September 30, the Group's operating fleet had 202 aircraft comprising 195 passenger aircraft and seven freighters.
SIA's operating fleet comprised 140 passenger aircraft and seven freighters, while Scoot had 55 passenger aircraft. The Group also has 96 aircraft on order.
"With an average age of seven years and one month, the Group operates one of the youngest and most fuel-efficient fleets in the airline industry," read the press release. "This allows its airlines to offer greater comfort and innovative products to customers, while further driving operating efficiency and supporting ongoing efforts to lower carbon emissions."
The Group's multi-hub strategy
The proposed merger of Air India and Vistara remains on course, the press release said, with the Competition Commission of India approving the transaction in September. It remains subject to foreign direct investment approval along with approval from other regulators and competition authorities in several jurisdictions. This includes those from India's Directorate General of Civil Aviation, Ministry of Civil Aviation, and National Company Law Tribunal and the Competition and Consumer Commission of Singapore.
When completed, the merger will give SIA a 25.1 percent stake in an enlarged Air India Group.
Integrating sustainability
The SIA Group, the Civil Aviation Authority of Singapore (CAAS) and GenZero have completed a twenty-month Sustainable Aviation Fuel (SAF) pilot which commenced in February 2022, the Group reports. The pilot supports the goal of creating a long-term secured SAF supply ecosystem for Singapore, one recommendation of the International Advisory Panel (IAP) on a Sustainable Air Hub.
The initiative confirmed Singapore's operational readiness to deploy SAF and validated the end-to-end process to bring SAF into Changi Airport.
A look at the Group's interim dividend
SIA Group is declaring an interim dividend of 10 cents per share (tax-exempt, one-tier), amounting to $297 million, for the half-year ended on September 30, it said in its press release. The interim dividend will be paid on December 22 for shareholders.
Following the end of the second quarter
On October 25, the Company redeemed all the S$600 million (US$441 million) 3.16 percent 5-year Fixed-Rate Notes upon its maturity. Following the redemption, the Notes have been cancelled in their entirety, the press release said.
On November 7, the Company announced its intention to redeem 50 percent of the remaining MCBs that were issued in June 2021. The accreted principal amount payable, being 110.408% of the principal amount of the MCBs, will be $1,710.4 million. This redemption will be carried out on a pro rata basis, with the redemption amount to be paid to eligible bondholders on December 26. Upon completion, the Company would have redeemed 75 percent of the June 2021 MCBs in total.