SAUDIA Group celebrates Saudi National Day with on ground and on-air activations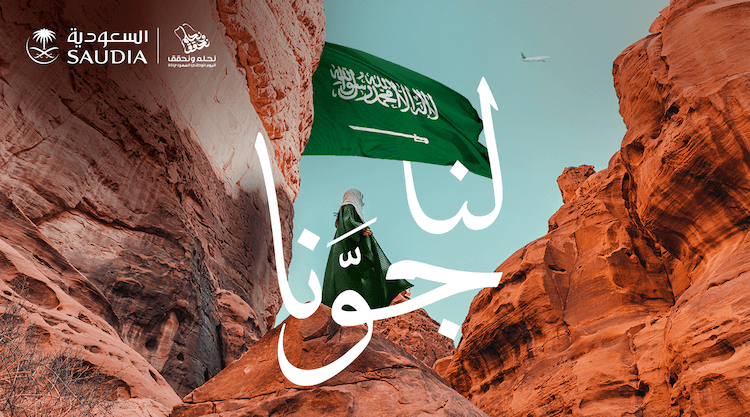 SAUDIA Group celebrated Saudi Arabia's 93rd National Day, under the slogan "We Dream and Achieve," with a series of on ground and on-air activations.
SAUDIA, the national flag carrier of Saudi Arabia, participated in the celebrations with an air show which featured both military and commercial aircraft and was held under the supervision of the General Entertainment Authority. The airline has also provided travelers with special offers on domestic flights, as well as offers for additional miles for its Al Fursan loyalty members – SAUDIA's frequent traveler program.
SAUDIA's National Day initiative presents travelers with the chance to fly in economy class to any domestic destination with a one-way Guest Saver ticket for 93 riyals (US$25), and Guest Basic tickets for 193 riyals (US$52). The tickets are available from September 20 to 21, 2023, and the travel period will be between October 1 and December 31. Guests will be able to purchase these tickets through the website and smart phone applications only.
Additionally, Al Fursan loyalty members will be able to obtain 93 percent additional miles when purchasing reward miles from September 18 to 20. Meanwhile flyadeal, the low-cost carrier of SAUDIA Group, celebrated Saudi National Day by offering guests the chance to travel within the Kingdom with tickets starting from 93 riyals (US$25).
SAUDIA launched a social media campaign which encouraged guests and followers to express their appreciation for the Kingdom by sharing moments that highlight Saudi's rich heritage and culture, and its diverse identity. SAUDIA will use these moments in a video which will be presented during the National Day celebrations.
The Saudia Group has continued to proudly participate in the National Day celebrations, as it represents Saudi and its people for nearly 80 years, as the national flag carrier of Saudi Arabia. Since its formation during King Abdulaziz Al-Saud's reign, the Saudia Group has been committed to providing its guests with the best-in-class service, while contributing to the Saudi economy and community by forming strategic partnerships with various national sectors and authorities.