Video Clip: Northern Pacific Airways unveils livery design of 757-200
Anchorage, Alaska-based Northern Pacific Airways debuted the livery design of its 757-200 this week at a special unveiling event in San Bernardino, California. It was hosted at the Certified Aviation Services LLC (CAS) AeroPro hangar at San Bernardino International Airport (SBD). The event was sponsored by CAS, AerSale and PepsiCo.
After a celebratory evening with champagne and music, the hangar doors parted and all in attendance met Northern Pacific's 757-200 for the first time.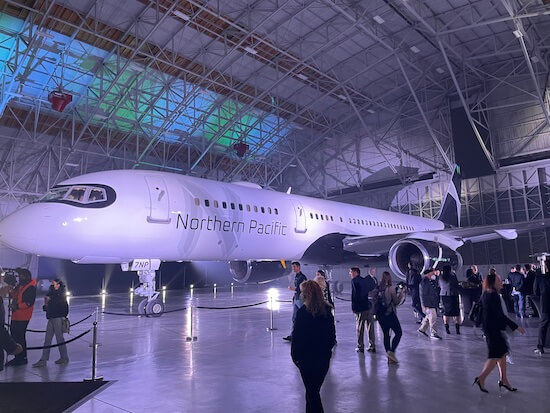 The livery is bold and attractive. The body features the company logo in black, with a large 'N' behind the logotype. On the tail is the distinctive vibrant 'N' and an eye-catching white web-like design that pops against the jet-black background. The winglets also have bright turquoise, a nod to the Northern Lights so often visible in Alaska.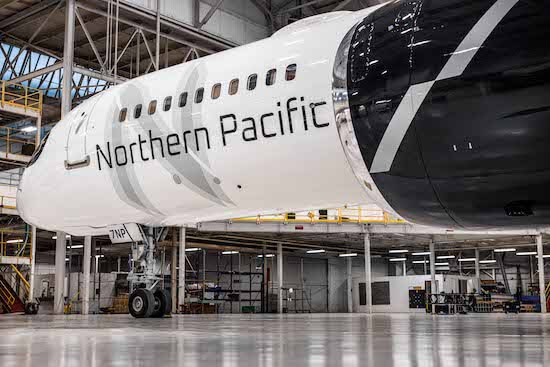 "The livery design carefully captures the Northern Pacific brand and our affection for our Alaskan home," said Northern Pacific Airways CEO Rob McKinney during the event. "The design echoes our airline's values — elevated customer service, an esteemed point of view, and an innovative route strategy designed to connect passengers from east to west."
The aircraft has capacity for 200 passengers in a three-cabin layout: First Class, Premium Economy and Economy.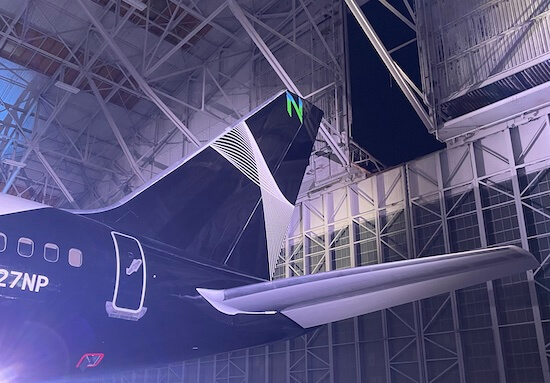 Along with McKinney, there were several notable people in attendance, including Northern Pacific Airways President Tom Hsieh. He told PAX it has been an incredible journey to see the airline come to life in about a year's time.
CAS's COO Paul Oliver was present. CAS is the MRO responsible for carrying out the painting of the livery. Oliver tells PAX Tech any future MRO for Northern Pacific Airways will be done at the SBD AeroPro facility.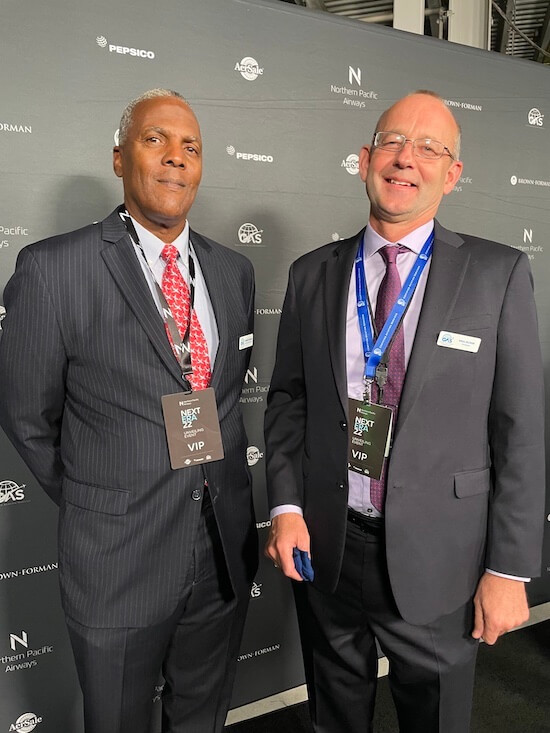 CAS's Ken Channel, Director, Services, Sales and Contracts, and Paulina Todd, Vice President Commercial were also in attendance. AerSale's Chairman and Chief CEO Nicolas Finazzo was there, along with Erlendur Svavarsson, Senior VP Sales and Marketing for Loftleidir and CEO of Cabo Verde Airlines.
The Anchorage stopover model draws largely on what Icelandair did with its Reykjavík Stopover, and Svavarsson has shared help, support, learnings and best practices with McKinney and Northern Pacific, McKinney told PAX.
The stopover did wonderful things for tourism in Icelandair, and Alaska has the same endless potential with Northern Pacific, Svavarsson told PAX during the event.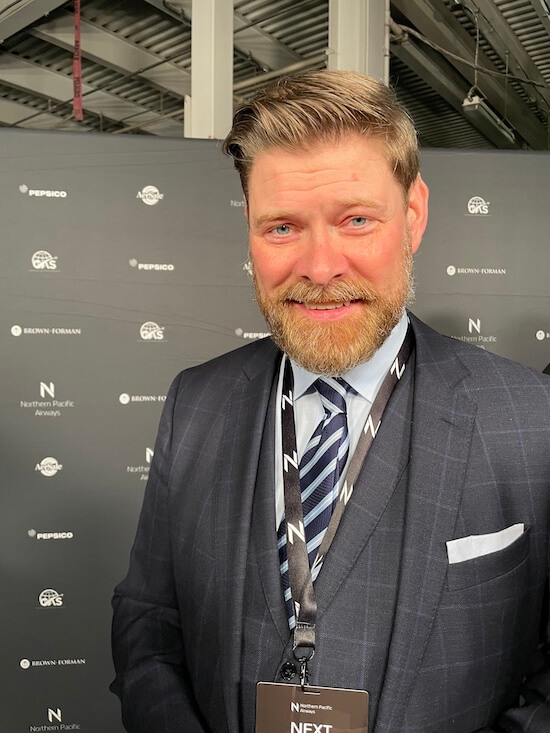 McKinney says Northern Pacific tapped tourism association Visit Anchorage Alaska to create an à la carte-style activity offering for its passengers visiting the state. From dining, hiking, and taking a helicopter ride to dog sledding on a glacier and finding the best spot to see the Northern Lights.
"You can book your stopover and all the activities that you're going to do," he says. "It would be a one-stop shop at np.com where you can create the entire package. We're trying to make the experience as easy as possible."
Visit Anchorage's Kathy Dunn, VP, Communications, says the airline is hugely promising for both the Municipality of Anchorage and Alaska altogether when it comes to tourism and sharing the Alaskan way of life.
Visit Anchorage worked closely with McKinney and Hsieh recently when the pair revived Ravn Alaska, the short-haul state airline. Also headquartered in Anchorage, Ravn is available to transport tourists to other communities in Alaska.
Northern Pacific Airways plans to offer a "cutting edge" loyalty program called FlyCoin. It rewards passengers with cryptocurrency, McKinney says. It never expires, is tangible and is accepted as a medium of payment at Anchorage Airport North Terminal confectioners.
McKinney says the airline is in talks with amenity and comfort product suppliers and inflight entertainment and connectivity providers. He says the aim is to provide free streaming to passengers allowing them to use personal electronic devices inflight.
"As I look back, this was just an idea in April of 2021. Here we are rolling out with our first [aircraft], with his new paint on it and I'm just super excited that we have been able to draw this amazing team of people together that are all passionate about what we're doing," McKinney says.