Sola announces rebrand to bring all divisions together
This is a special feature from PAX International's September 2021 WTCE Virtual digital edition, on page 28.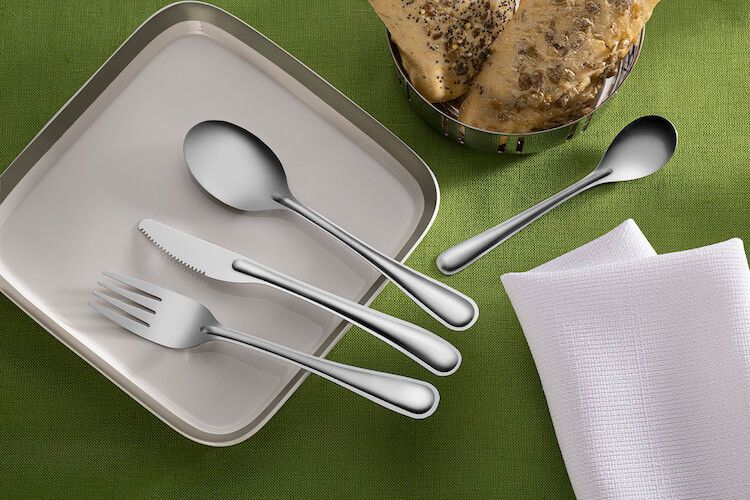 Better together
When the pandemic brought the airline industry to a sobering halt, a well-known Netherlands-based supplier took advantage of the downtime to reevaluate its entire organization through all divisions.
The Gerritsen family started silverware production and supply in 1868 and went on to found Sola in 1922. Originally a household cutlery producer, other divisions were added through the years each with specialized staff knowledgeable of the target market, from hospitality to cruiseline to railway to airline. The privately owned company is now the supplier to more than 80 of the world's most prestigious and leading airlines and many major hotel chains. With nearly 100 years of success, Sola is emerging from the pandemic with a refreshed and unified brand image.
For many years it made sense to keep a clear distinction between the entities based on industry, but when the company continued its momentum of growth, it was time to bring attention to the brand at large, Sola Export Manager Hans Engels tells PAX International.
"All divisions are stronger because of this rebrand," he says. "The goal was to present Sola as a company that it is, and not all these separate divisions. We are much bigger than people might think. And a refresh, done in the right way, is always a good idea. It sets our goals straight and creates a clear image of what people can expect from Sola."
Sola officially launched a new website, logo and brand colors in early-June. Now, customers can find all Sola entities on the same webpage: Sola Hospitality Cutlery, Sola Airline Cutlery, Sola Railway Cutlery and Sola Cruiseline Cutlery. The crisp new logo is a modern font for S O L A with tasteful accompanying artwork of a fork, spoon and knife. The website colors feature the recognizable blue tones of Sola's previous branding, but with sophisticated and refined hues.
A rebrand was in the works just ahead of the outbreak, which ended up providing some extra time to perfect the image, Engels says. The company planned to make the announcement at this year's trade shows, but COVID-19 threw a wrench in the excitement, so Sola aims to celebrate with "a splash" in the future, he adds.

Tried and true
Unlike in some instances, the brand refresh did not mean a restructuring of personnel or a disruption of product development. Each division has maintained its employees and development plans as each require a special understanding of cutlery requirements for the respective industry.
"The plan of combining departments was not to move people around. The specialists that work in these files will continue to service our clients like we did in the past," Engels says. "The products are very different. For example, the volumes and all other aspects are different between the airline and railway division compared to the hotel chain."
The industry can continue to expect high-end, practical solutions for stainless steel cutlery for First, Business and Premium Economy classes. Engels says Sola expects the demand for customizable and sustainable onboard cutlery will develop farther as the pandemic comes to a hopeful end.
Sustainable steel
Sola will remain focused on addressing climate change with a focus on its natural and recyclable super lightweight steel cutlery options.
The Dutch company took two major climate-conscious steps forward in 2019: it became a full member of amfori BSCI and made a commitment to uphold the United Nations Sustainable Development Goals (SDGs).
amfori BSCI is an organization that enables companies to trade with purpose and strive to improve the social performance in their global supply chains by applying a uniform code of conduct across all suppliers. It lays down a series of conditions that manufacturers must adhere to in order to attain certification and the right to manufacture for Sola.
The SDGs is a collection of 17 global goals that "emphasizes a holistic approach to achieving sustainable development for all," according to the UN website. The goals were established in 2015 at United Nations General Assembly and with a goal for full achievement by the year 2030. The goals are interdependent and have a list of targets that are measured with indicators. A variety of tools exist to track and visualize progress towards the goals.
"We are more than just knives, forks and spoons. We are acutely aware of the need to address climate change issues as well as best business practices, fair trades and environmental and social care," Engels says. "We demand it, our customers demand it, and increasingly, the public at large and end-users of our products demand to know we are doing our bit to ensure a sustainable future."
Several airlines have trialed the super lightweight cutlery. Despite the pandemic slowing demand, business is picking up again with recovery on the horizon.
"We will continue to design new cutlery items and other inflight catering items, which we will communicate throughout the coming year. And, like everybody else we look forward seeing our clients and friends again soon," Engels says.