Dr. Joe Leader hints at Riyadh Air CEO presence at Global EXPO 2024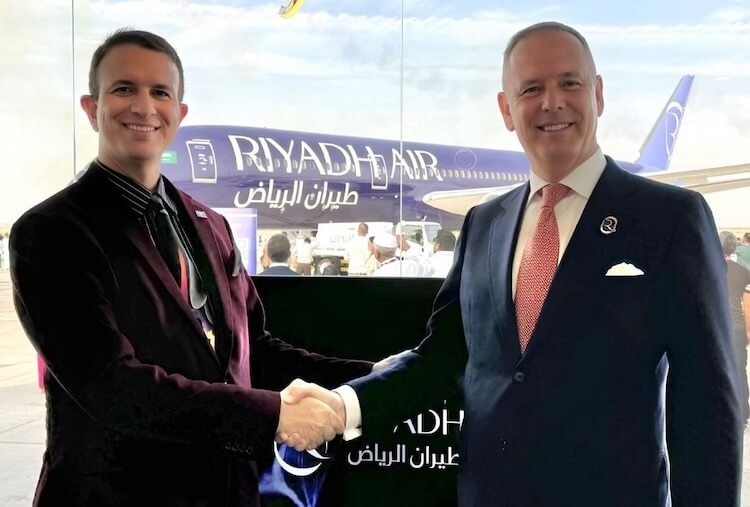 Today, Dr. Joe Leader, CEO of APEX (Airline Passenger Experience Association)/IFSA (International Flight Services Association) and Future Travel Experience (FTE), published a post on his LinkedIn page sharing an image of himself and Riyadh Air CEO Tony Douglas.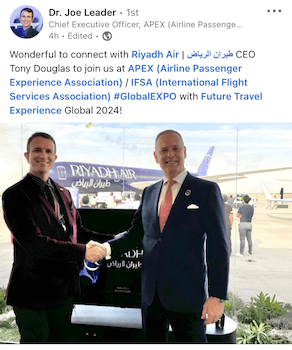 Standing in front of one of the new Saudi Arabian flag carrier's aircraft, the purple of the dual-livery, the two embrace in a handshake.
"Wonderful to connect with Riyadh Air," writes Leader in the LinkedIn post. "CEO Tony Douglas to join us at APEX/IFSA #GlobalEXPO with Future Travel Experience Global 2024!"
Dual-liveries heralding a "new era" in air travel
Riyadh Air unveiled its first of the permanent dual-liveries at King Khaled International Airport on June 12. The livery features the body of the 787-9 Dreamliner in a rich indigo with Riyadh Air written on the side in Arabic and English.
The second livery was revealed this week at the Dubai Airshow 2023. It continues the airline's indigo theme with striking lines inspired by the twisting canopies of traditional Bedouin tents and elegant curves of Arabic calligraphy. The bold new look with lavender accents features a sweeping cockpit window design, with the indigo signature theme contrasted against a light unique iridescent fuselage that reflects purity and the future-focused vision of Saudi Arabia. Riyadh Air is written in Arabic and English, and the airline's trademark logo is placed on the tail, engines and aircraft belly.
"The second livery reflects Saudi Arabia's forward-thinking ambitions using iridescent colour to add a modern twist to the innovative design, which along with intricate bold text, makes Riyadh Air instantly recognizable, whether on the ground or in the skies," reads the November 12 press release.
Tony Douglas, CEO, Riyadh Air, said, "As the largest start-up in commercial aviation in decades we are delighted to unveil to the world Riyadh Air's second livery which will be unmistakable when it takes to the skies in 2025 as we become one of the first international carriers to have permanent dual-liveries on an active fleet."