Etihad Engineering and DHL sign agreement to reduce carbon emissions through GoGreen Plus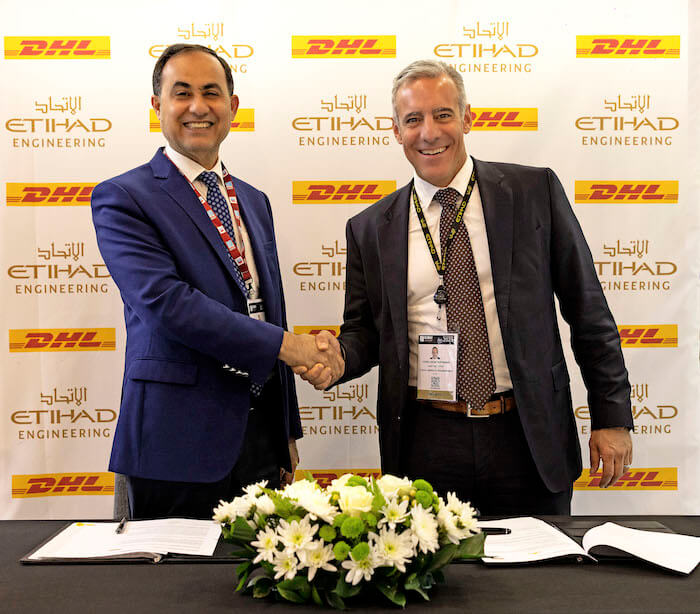 Etihad Engineering announced its new agreement with DHL at the Dubai Airshow this week. The company has signed up to reduce carbon emissions through DHL's latest sustainability solution, GoGreen Plus.
Daniel Hoffmann, CEO of Etihad Engineering, and Mahmoud Haj Hussein, Country GM of DHL Express UAE, signed the agreement. The GoGreen Plus service is part of Deutsche Post DHL Group's sustainability goal of achieving net-zero emissions by 2050. Joining this service is set to enable Etihad Engineering to reduce carbon emissions from shipments through the use of Sustainable Aviation Fuel (SAF). With this agreement in place, Etihad Engineering becomes one of the first aviation MRO service providers globally to utilize the GoGreen Plus service as part of its sustainability targets.
"We are fully aligned with the UAE's net zero vision for sustainable development and have chosen DHL's GoGreen Plus solution as a part of our ongoing commitment to reduce emissions and work towards a healthier planet for our future generations," said Hoffmann. "As an ISO 14001 certified organization, we at Etihad Engineering adhere to international environmental standards and are continuously exploring ways to conserve energy, reduce emissions and protect our environment."
Etihad Engineering will be able to reduce indirect greenhouse gas emissions that occur in the value chain, including those from downstream transportation and distribution, through DHL's GoGreen Plus service.
"At DHL, we understand our customers' dedication to minimizing their carbon footprint," said Haj Hussein. "With our ESG commitment and investments in Sustainable Aviation Fuel (SAF), now accessible through the GoGreen Plus product, our customers have the tools they need to make a significant impact on reducing the carbon emissions that occur in the value chain.
"We are honored to count Etihad Engineering as a longstanding strategic customer. It gives me great pleasure to welcome them aboard our GoGreen Plus service, further solidifying our mutual dedication to sustainability."
DHL GoGreen Plus is a sustainability solution with stringent standards of accuracy. It undergoes rigorous auditing and verification by an independent body accredited by the Société Générale de Surveillance (SGS), Eithad Engineering said in its press release.
As part of the agreement, DHL will provide Etihad Engineering with a quarterly progress report, certifying the total emission reductions achieved based on the independent SGS audits.