Emirates and Safran Group sign series of agreements worth US$1.2 billion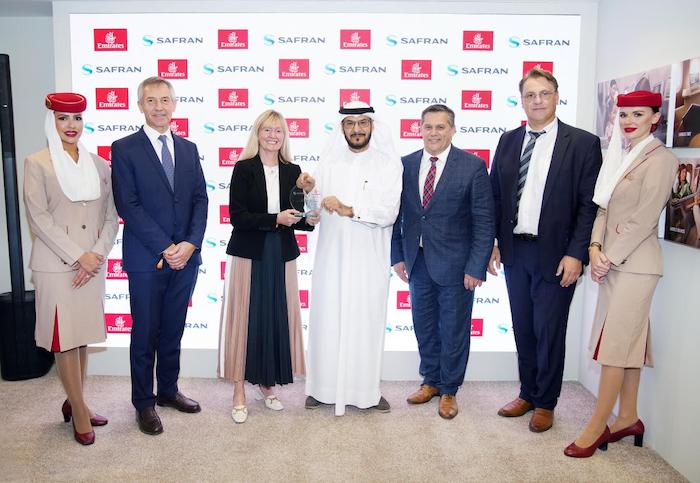 Emirates and Safran Group announced in a November 14 press release that the two have entered into a series of agreements worth US$1.2 billion in total. The contracts include best-in-class seats for Emirates' new A350, 777X-9 and 777-300 fleet, cabin equipment, wheels and carbon brakes, landing gear component repairs, retrofit and MRO support.
Seating across all cabin classes
The series of contracts awarded to Safran include a US$1 billion deal for the latest generation Safran Seats for Emirates' new fleet of A350, 777X-9 and existing 777-300 aircraft. The agreement covers Business, Premium Economy and Economy Class seats for the airline's A350, along with Business, Premium Economy and Economy Class seats for the 777X-9.
The seats are expected to set a new standard for passenger comfort, privacy and convenience onboard, providing more space and an array of high-end features in every cabin class. The deal also represents a significant export order for a French company, and is part of Emirates' ongoing investment in France and Europe, the press release said.
"Safran is a key partner for Emirates and we're working closely to reimagine and elevate our future cabins with smart design and the latest technologies," said Sir Tim Clark, President, Emirates Airline. "These have been decisive factors in our selection of seat types which will be customized for Emirates. Today's announcement is significant not only because it cements the partnership between Emirates and Safran, but also because it supports aviation manufacturing and the wider value chain in France and across Europe."
Safran CEO Olivier Andriès said, "Safran is very proud of our longstanding strategic alliance with Emirates. The continuation of our 30-year partnership underscores Safran's commitment to innovative solutions for aircraft interiors, critical aircraft equipment and services to ensure the best possible passenger experience. Today's agreements set the stage for Safran's continued growth along with our customer, a leader in the global market. More than ever, we are looking ahead to the future."
As part of the agreements, Safran Cabin will be providing Emirates' A350 fleet with Galley shipsets in addition to the new seating across all cabin classes. The agreements also include Safran Landing Systems supplying high-performance wheels and carbon brakes for the Emirates A350 fleet.
Connectivity solutions from Safran Passenger Innovations
Safran Passenger Innovations will be providing its RAVE AeroConnect Ka solution to Emirates. This tech deal will allow connectivity across multiple providers and frequencies. The end-to-end solution will improve inflight connectivity by offering Emirates flexibility in entertainment and provider choice. Fifty A350, 60 A380 and 50 777X-9 aircraft will be equipped with Safran's agnostic satcom connectivity solution.
Retrofit support from Safran
Under the series of agreements, Safran is working closely with Emirates on its current retrofit program, which includes providing new seats for the 777 and A380.